Thappad – Not convincing enough!
The wife wanted a divorce because the husband slapped her right in front of everyone at a party – & no one came to defend her – not her own parents, neither her in-laws – basically she was angry with all of them…should she have parted ways with all of them? Not possible I guess – one needs some support after all!
Anyways, she wanted to separate and start life afresh – so far, so good. But when she found out that she was pregnant – she should have just aborted! Why bring a baby in her already 'utterly confused' and inconsistent life? Why add a burden? She would have to look for a job – since she left her husband as she was a homemaker – so? She will carry the new born baby with her to attend the interviews? Or leave the child with some illiterate slum bred aayah to bring up her baby with her slum tricks? & it is said that when a lady is pregnant – she should be happy, read good books because the foetus starts to imbibe qualities from his/her environment while still in the womb (after 3-4 months when the  heart beat starts, before that, as a pulp of self multiplying cells, the doctors can carry out the abortion process because it is lifeless) – but during her pregnancy, she was going to the courtroom and attending her divorce trials! Where is the joy of celebration? Motherhood should be treated as a boon, as a promotion from womanhood to motherhood – but in this film – it was clearly not a happy moment for her – someone she hates and detests from within – for treating her like a foot-mat – there was no point in keeping his portion within and spend the rest of her life bringing up the unwelcome child! Moreover her chances of finding a new (probably better) life partner will also decrease if she has a child tagging along with her from her previous marriage…esp. when she had the chance and all the reasons to do away with the unborn child!
(PS. The above is only in context of the film story, don't try to mix it with other things to mess up things further!)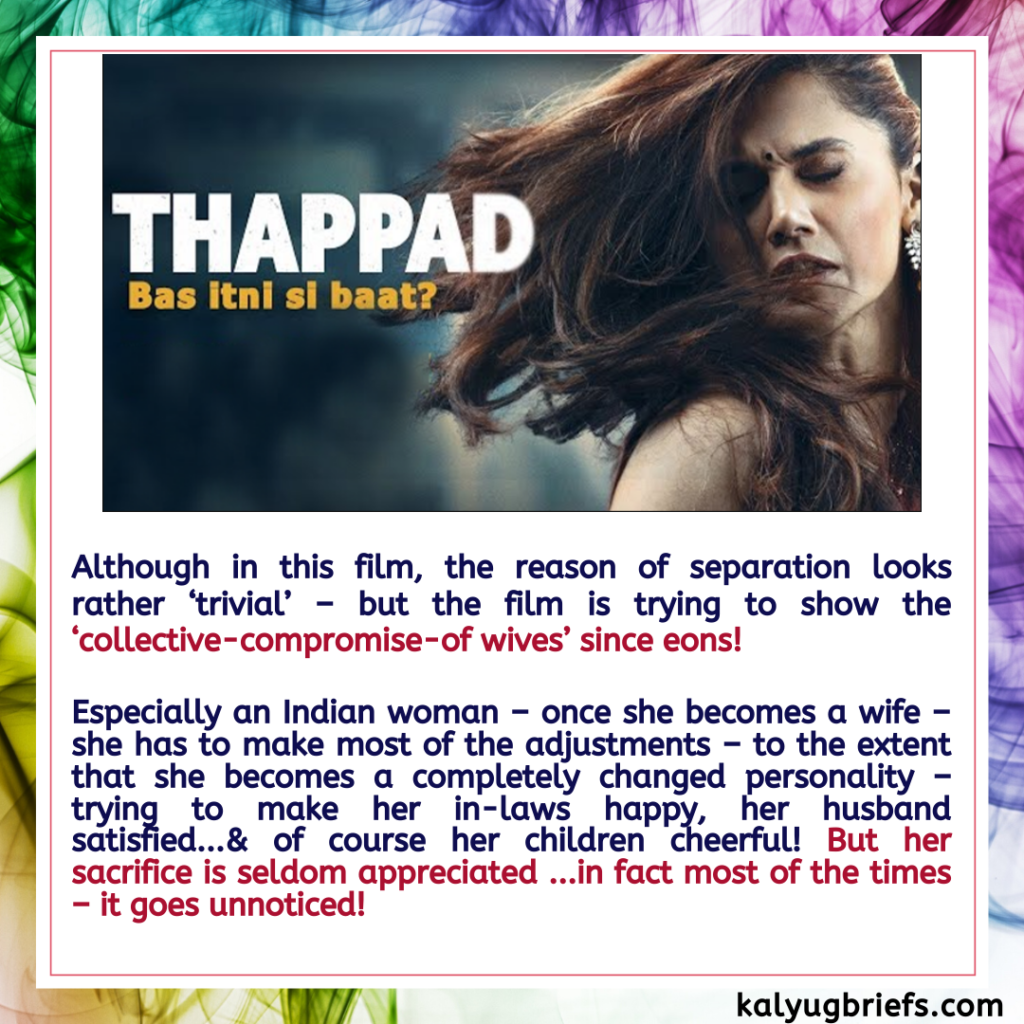 Stories of other sacrifices:
Mother of the female protagonist: She liked to play the harmonium & sing. But after marriage, she got busy with household chores, raising children and never played the harmonium, nor sang and the husband also got busy with his office and never bothered to ask his wife whether she would like to perform on stage and become some famous singer!  She compromised with her fate.
Mother-In-law of the female protagonist: She lived away from her husband with her younger son. She felt that her husband never gave her time and was busy with golf and office. SO she started to live separately (not legally divorced) with her younger son.
Domestic helper of the female protagonist: She lived in a slum and used to get beaten by her husband almost daily – if ever he forgot, his mother reminded him to beat her up!!
Basically everyone was putting up with sad, unfulfilled shitty life full with compromises!
A single decision of the female protagonist – to divorce her husband because of a slap in 'Bhari mehfil' (wondering whether she would have at all divorced him had he slapped her in privacy) – made a lot of difference to the women in her life….like her father got his wife a harmonium to play, her father-in-law went out with walks with his wife, her maid did not bother much about being beaten and dared him to beat her more……
Film Conclusion – All their lives, the wives have put up with a lot of shit…it is time to end putting up with shit….