Jab tak hai Jaan – Review by Aumaparna
A good looking multi- millionairess born & bred in UK falls in love with a street beggar born & bred in Punjab da village! ……yea please continue reading if you so wish!
So the hero was born in a village in Punjab & did his schooling in some hindi medium school because of which his English was pretty much poor. His mother had sent him away in a far away distant land so that he does not join the Indian Army…since she was fed up/ afraid (dunno what) of the Army life as most of her relatives – husband, FIL, BIL….grandfather were from the Army so she did not want her son to join the forces….she was okay with the idea of her son begging, doing other odd jobs for a living…..but was in a foreign country after all – this is a 'foreign country' craze – we the Indian people suffer from really!! Maybe she could boast among her friends, kith and kin that her son was in UK – wow – this piece of information itself attracts many dowry-giving families who are equally foreign crazy!! – like if the son-in-law is in London …then almost instantly they self-promote themselves to the 'elite' class…..and who doesn't want to belong there huh?
Anyway, so one fine morning when this 25 years old hero was cleaning the driveway – like shovelling the snow…he sees this pretty damsel- heroine – running into the church – to have a quick chat with Lord Jesus….he follows her inside and listens to her prayers! She had prayed to God for a good looking, fair skinned British born man as her life partner…as she hated the brown skinned Indian complexion!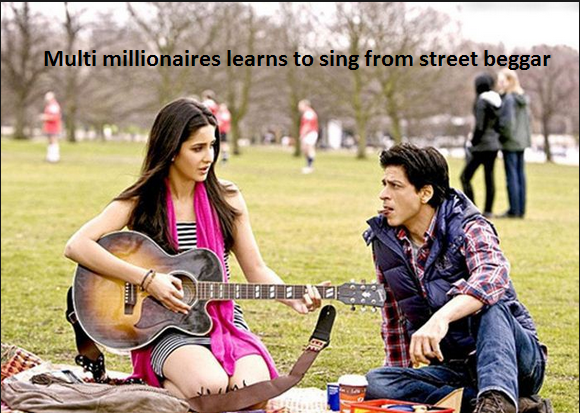 Life goes on …..and while begging one day (he used to play the guitar and sing), the heroine even slips in a penny in his begging bowl. He gets an opportunity to be a waiter in a lavish hotel that was booked to celebrate the engagement function of – guess who!?…yea the pretty heroine. The hero sees her getting engaged to a British born, fair skinned, good looking stud…just as she had prayed for.
The story begins now – after exchanging rings, she goes to the waste-disposal area to smoke!….hero sees her there and says why is she not happy about getting what she prayed for….she abuses him in English – (what the f….- word) etc. and leaves. They again meet…and get to meet each other often. Then there is a Titanic film scene copy here…..he asks her to accompany her to his night life – where street urchins, hooligans, poor people meet each other…indulge in partner-swapping, get drunk, dance, women are of course scantily dressed…deprived souls after all – they draw pleasure by having as many sex-partners as possible…so they attract males of all age, caste, creed…all for fun sake – for such people who beg, borrow, steal in broad day light –  dance, booze and party all night long!…basically its either this standard of poor people who have such a wasteful life style or the filthy rich (esp. who become rich by unfair means) – who booze, party and beep all night – both belong to the 'confused' lot!
Now this heroine had a deprived childhood too…her mother had left her when she was barely 12 years old – well – her mother had found 'love' and so had left her husband who was always on a 'money-making-trip'…basically mothers take custody of their daughters coz there are many girly things to tell a daughter – but I guess she did not care much – she had found love – and she left. Period. So when the heroine mixes with other deprived souls…she kinda likes it – dancing at night, exchanging partners, scanty dresses that shameless brazen females wear and don't give a damn to the rest of the world…and blah blah…
So when she compared a sophisticated, royal & decent lifestyle that the British born rich stud could give her….and the mucky depraved lifestyle that the Indian born street beggar could give her….she chose the latter!..Off she went loitering the entire town with him on his bike – made love inside telephone booths, abandoned garages, pavement (she managed to steal a blanket from her home though – so their bodies were covered under the blanket)…..and she loved the lifestyle.
Ok – this hero meets with an accident and heroine thinks it happened because of her…for she had got what she prayed for and in spite of God's direct blessings she dared to run around almost naked all around the town with her new-found, Indian dark complexioned beggar lover ! She makes him to promise her that they would never meet again!
So the hero comes back to India…and guess what – the Indian Army was waiting for the 26 years old London returned street beggar – with open arms…they trained him to became a bomb diffuser…those bombs which the terrorists ever so lovingly planted for the Army fellas to diffuse! Some intelligence these supposedly illiterate bomb planters have I must say – they have good knowledge of physics…all kinds of circuit diagrams etc….which never entered my brains though…in spite of mugging up all sorts of circuit diagrams…like electric bell…etc.
Anyways – there is a major stunt to attract youths towards the Indian Army in this film folks – nah! Not diffusing bombs – of course not…its like they showed that 'baniyan' (male vest) clad females give a jiggle dance often …among the boozing army officers and jawans!! [Statutory Warning] – Nothing of this sort happens in the Army. Let me elaborate on what happens – listen to it from a horse's mouth –
Usually in field areas (or border areas) they have to be always on the alert.
One team goes off to sleep at 7:30 pm, while the other team is on the guard – then duties are exchanged and handing-over takes place at 4 am…somewhat like this.
More or less every month they have medical check-ups – so they cannot really indulge in reckless sex with sassy available females – however scantily dressed they might be & eager to perform a 'jiggle' dance in front of them!
So this Jiggly female befriends with the Hero..and finds out that he is in 'eternal' love with a UK bred lovely rich and dumb damsel.
She helps them come together again. End of story.