De de Pyaar De – Kalyug Briefs Review
If you sleep (with any random person) once – does it mean you will fall in love with him/her and if you don't sleep with the one you love – does it mean you will fall out of love? Wow – such original dialogue – such an unheard of revelation ! A huge round of applause please!!
So the wife raises her 2 children alone in India because she had separated with her husband due to incompatibility issues.
Husband was settled in London, was rich and of course he eff-ed around random females – and was such an adept that he convinced them to sleep with him without paying them!! Like he eff-ed for FREE and many game girls were ready for it!
He meets a bar-maid who drinks a lot and has a boyfriend too – who she ditches and moves in with rich man in his apartment.
Man's shrink does warn him that such females always are on the look out to rope in rich males and live off their income. Man rejects his counselling and continues dating the girl half his age…as young as his daughter in fact!




Both actually fall in love – awww….how come? Because Hollywood celebrities and even Bollywood celebs – Saif and Kareena eg. too loved in spite of age difference! Wow – what role models! See that's what I write – entertainment people do become the role models of the commoners!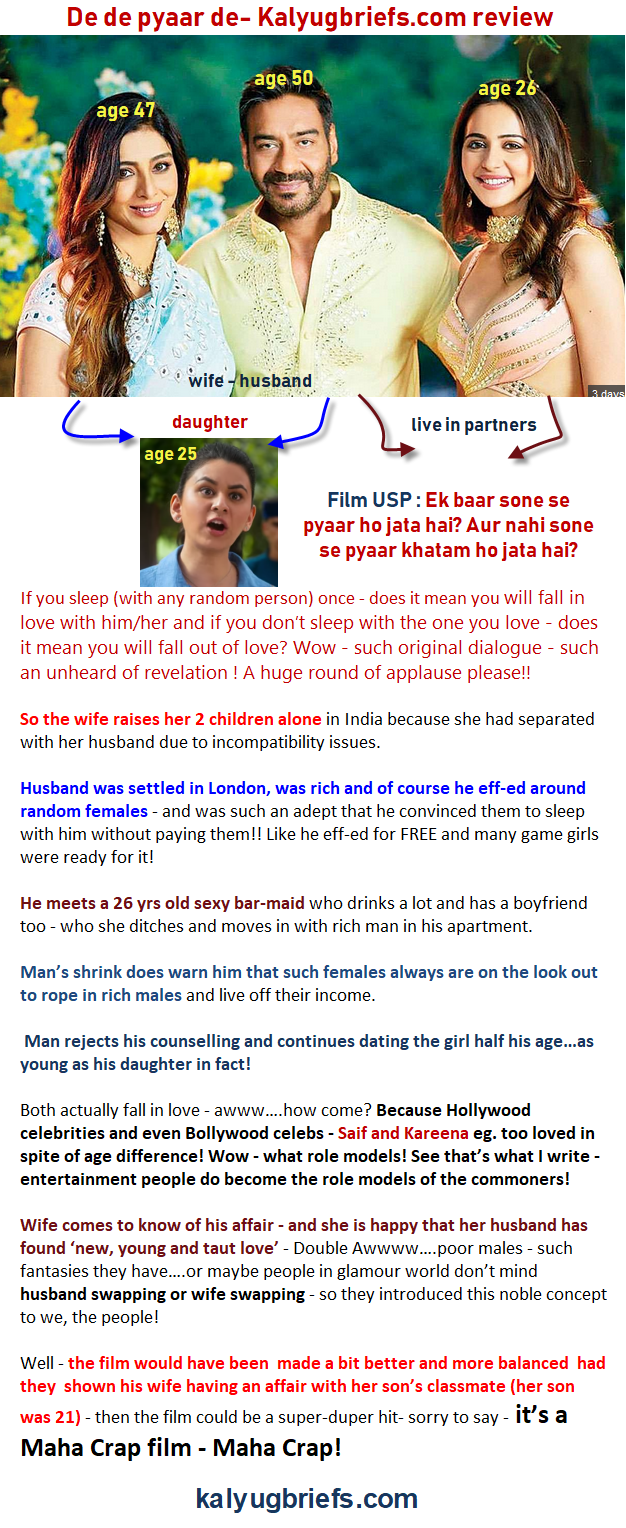 Wife comes to know of his affair – and she is happy that her husband has found 'new, young and taut love' – Double Awwww….poor males – such fantasies they have….or maybe people in glamour world don't mind husband swapping or wife swapping – so they introduced this noble concept to we, the people!
Well – the film would have been  made a bit better and more balanced  had they  shown his wife having an affair with her son's classmate (her son was 21) – then the film could be a super-duper hit- sorry to say – it's a Maha Crap film – Maha Crap!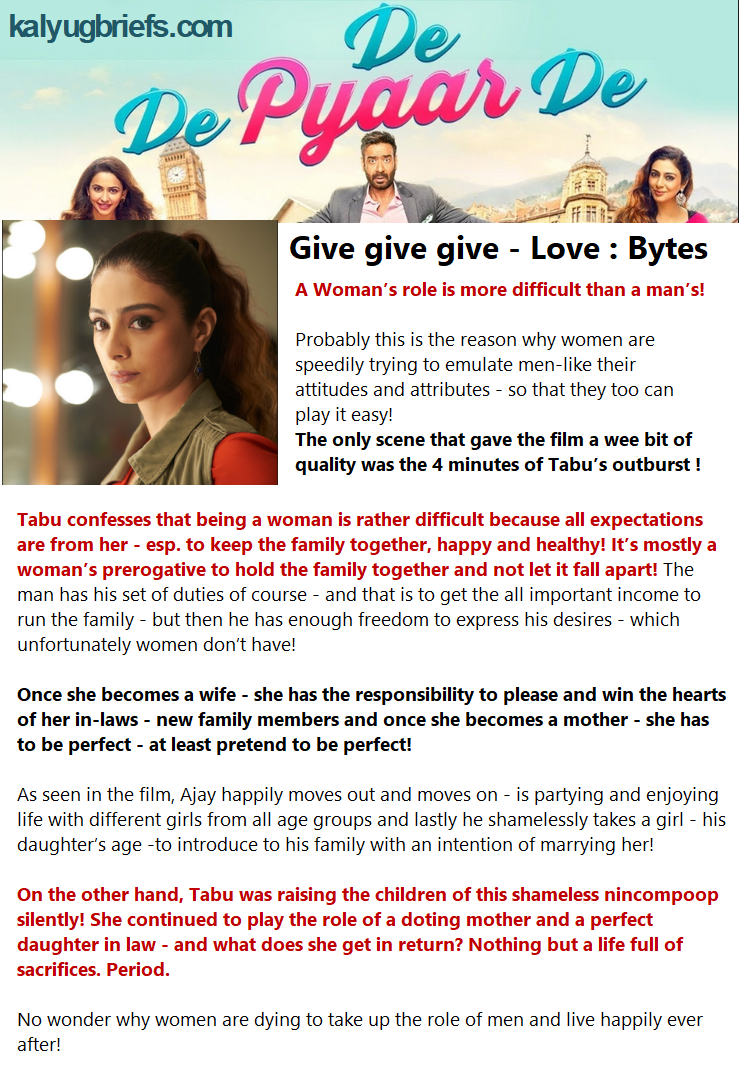 De de pyaar de – Give give give – Love
Where love is actually Lust!
So bollywood is trying to justify the paedophilic tendencies in males! In Hindi we call such lust-lorn old hags as 'Tharki Buddha' – which Javed- who played the shrink – even calls Ajay in the film! But that did not stop him from prancing around foolishly with a girl his daughter's age! Meaning it's quite possible that had he lived with his family, he might have molested or made cheap advances towards his daughter's friends too! That's the reason why, we, the people, especially mothers, don't allow grown up daughters to stay the night at some friend's place – you see – Fear of Tharki Buddhas ! Who knows – maybe that's why Tabu had divorced him – she might have come to know of his paedophilic tendencies and thus had separated from him…to avoid further complications like incest etc.!




This film will unfortunately give a renewed enthusiasm  to the actual, real life Thaki Buddhas – and many young girls will probably have to bear the brunt of indecent proposals from the aged Beeps ! Work place harassment may also increase ….for the middle aged frustrated beeps at managerial level will try to make indecent advances to the young recruits, get booted in return and then mess up things at office! See it's all about repercussions! Expectations of Tharki buddhas will be on the rise! Savdhaan Young Indian!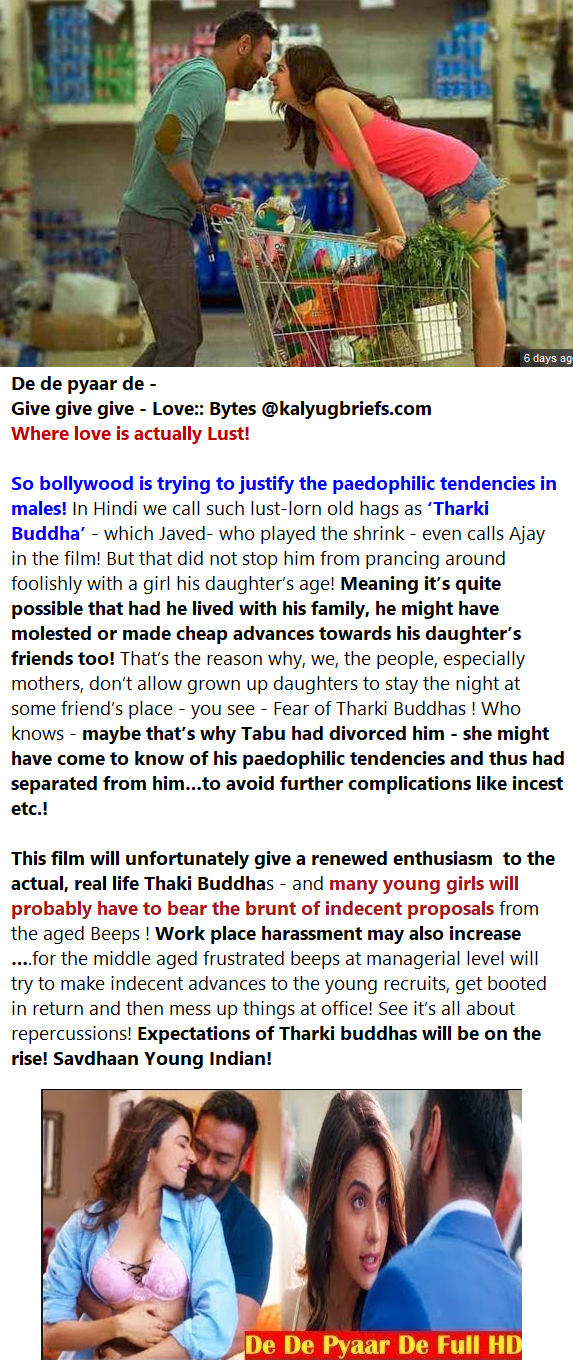 De de pyaar de – Give give give – Love : Bytes
A Woman's role is more difficult than a man's!
Probably this is the reason why women are speedily trying to emulate men-like their attitudes and attributes – so that they too can play it easy!
The only scene that gave the film a wee bit of quality was the 4 minutes of Tabu's outburst ! Tabu confesses that being a woman is rather difficult because all expectations are from her – esp. to keep the family together, happy and healthy! It's mostly a woman's prerogative to hold the family together and not let it fall apart! The man has his set of duties of course – and that is to get the all important income to run the family – but then he has enough freedom to express his desires – which unfortunately women don't have!
Once she becomes a wife – she has the responsibility to please and win the hearts of her in-laws – new family members and once she becomes a mother – she has to be perfect – at least pretend to be perfect!
As seen in the film, Ajay happily moves out and moves on – is partying and enjoying life with different girls from all age groups and lastly he shamelessly takes a girl – his daughter's age -to introduce to his family with an intention of marrying her
On the other hand, Tabu was raising the children of this shameless nincompoop silently! She continued to play the role of a doting mother and a perfect daughter in law – and what does she get in return? Nothing but a life full of sacrifices. Period.
No wonder why women are dying to take up the role of men and live happily ever after!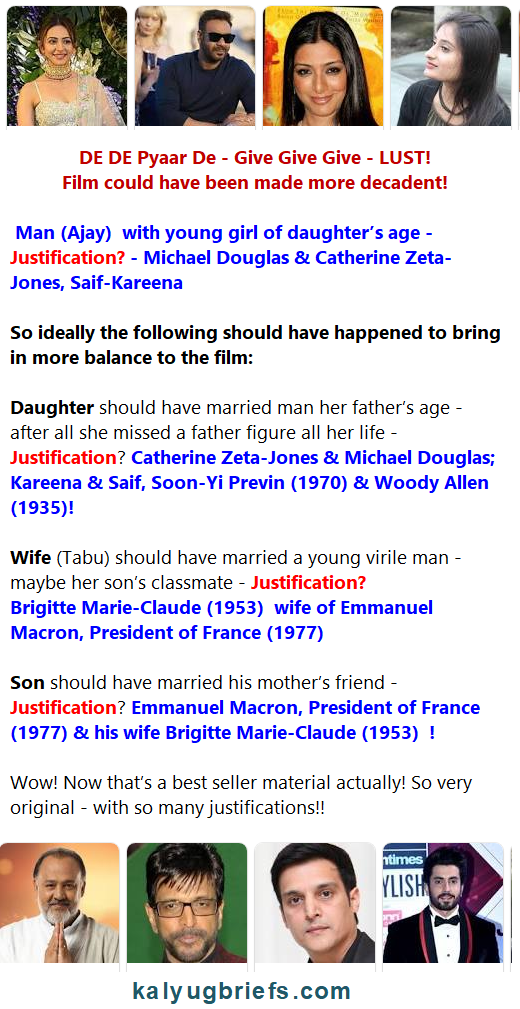 Film could have been made more decadent!
Man (Ajay)  with young girl of daughter's age – Justification? – Michael Douglas & Catherine Zeta-Jones, Saif-Kareena
So ideally the following should have happened to bring in more balance to the film:
Daughter should have married a man her father's age – after all she missed a father figure all her life – justification? Catherine Zeta-Jones & Michael Douglas; Kareena & Saif, Soon-Yi Previn (1970) & Woody Allen (1935




Wife (Tabu) should have married a young virile man – maybe her son's classmate – Justification?
Brigitte Marie-Claude (1953)  wife of Emmanuel Macron, President of France (1977)
Son should have married his mother's friend – Justification? Emmanuel Macron, President of France (1977) & his wife Brigitte Marie-Claude (1953)  !
Wow! Now that's a best seller material actually! So very original – with so many justifications!!