Ahare Mon – Bengai Film Review, Kalyug Briefs
What happens when –
You have good (rather great connection) with the film world personnel
You have access to rich film producers
You know directors who will do justice to your story line…
But you have no story!!
Ahare Mon gets created!
Honestly speaking I went to watch the film for Ritwick Chakraborty – I quite like his screen presence and of course he is a very natural actor – any role you give him – he will do full justie to it – mighty talented – no doubt! In this film he has played the role of a petty thief – he is obviously good at it ….but what I am disturbed about is the story line of the film! Very poor story…maybe as poor as a wandering mon (mind!)
Ahare Mon literally means 'pitying the mind' like 'poor mind', 'awww…poor little mind' – the games mind play with us and how we waste our lives in pursuit of our silly stupid imaginations that get created in our minds. The mind creates illusions based on the information fed to our brains. Information is fed to us from various sources…I need not elaborate on that!




Let me come to the movie:
Purnendu Pahari – Is an immigration officer whose job is to check passports & and visas and give a go-ahead stamp to the traveller. He happens to meet a young and attractive lady who was going abroad and he asks her if she was going alone. When she said she was – he started questioning her to which she gives him a dressing down and he is kinda shocked to see a lady responding in such an aggressive manner. Later he mellows down and she also apologises.
His colleagues ask him as to why he did not get married – to which he said that his father had died when he was young and ever since then he had to look after his ailing mother so he never got the time to marry! His friends ask to look for another – high paying job..since he had the SC/ST quota so getting a job for him was easy! – shows how insulting people can be and also jealous because of the reservation system. Pahari had to quietly gulp down the dose of insult regarding his SC/ST status! Reservation system should be taken away completely – education and living standards should be raised for every citizen….but at the level of competition, there should be zero reservation – this is injustice towards those who are academically good and intelligent! Also there are SC/STs who are capable of getting through competitive exams on the basis of talent and intelligence also – but even if they get the job according to their qualification – still life long they have to listen to sarcasm ad taunt from others – it is very humiliating.
Anyways, so this lady (Ramona) comes back from abroad and gets him chocolates! That's it! He thought that he may get a chance with her…he forgot all about his age – he looked 20 years her senior to her…yet he started writing letters to her…..not saying directly that he loves her…but indirectly indicating that if she agrees….they can have a roaring love-affair! The lady comes to his office one day and tells him that she is a lesbian…and bids him goodbye! Mr. Pahari was speechless but could not do anything about it. She then gives him a free ticket to Bangkok…..yeah— a place infamous for tickle massage centres and a lot more such stuff! But hang on – he had been abroad before also – to Thailand – when he was younger….and unfortunately he had fallen in love with a married woman who was also a mother of 2 kids!! More about it later!
The petty Thief – Michael Tendulkar – as he calls himself in the film is a petty thief who climbs up the drain pipes to steal things. He does his homework well though. He first finds out who in the locality is going on a foreign trip, for how many days etc…oly then he decides to steal! Some planning required huh! While he is stealing, he happens to meet another girl there who had the house keys with her and she was just spending time in the plush house of her friend. So it seemed that she probably was some slum dweller – living hand to mouth – living in some basti – poor – so she was spending time in a rich atmosphere – a feel good factor!
She looked very excited to meet the petty thief and decides to make her life more interesting by joining hands with him! What looked silly was the fact that she was constantly conversing with the petty thief in English…and surprisingly – the thief was responding to her questions – that she asked in English – meaning he understood English…but could not converse well – as he was replying in Bengali!!




They both then become shoplifters and start enjoying life duping people and feeling great about it!
Later in the film we come to know that she is the daughter of an oncologist and are pretty well off themselves…like he just gives a sum of Rs. 3 lakhs to his daughter on a single request! In India this kind of an attitude from a father comes if you are filthy rich! So basically a filthy rich daughter of an oncologist falls for an uncouth, uneducated thief – ridiculous really – why do film makers show such concepts….raising the expectations of mediocre males!!
The old age Home
There is an old age home where aged people are dumped by their children. One such aged lady joins the home and tells another oldie that her husband was in the Army and she was the mother of 2 sons. Her Army officer husband never got any time for her and was always posted in different cities (field areas maybe) so she was raising her children alone.Once they had decided to go abroad – Thailand – for vacation but at the last moment they had to cancel…yet she went alone with her kids. She meets a very soft spoken man – Mr Pahari – a younger version of him of course…and they fall in love. Nothing physical…just chemical..in the sense emotional love. But because she was married, he had told her that if ever she is left alone – she can come to him.
Listening to her story, the oldie companion of hers decided to take her to the post office from where she received a letter from him every moth without fail! But upon reaching the PO – it was found that Mr. Pahari had post dated letters and given it to the officer in-charge to release every month !! (kind of scheduling a post or a wish that we do on social networks nowadays!)
When they enquired where he lived…the Post master declared that he was no more…he had died couple of months ago! Heart broken, the aged lady returns to the home for the aged with the aged companion.
But was Mr. Pahari dead!? Nope he wasn't!! He had now fallen for a fresh meat…female – who in turn was a lesbian – so she dumped him!! He had gotten over the aged  lady and was consumed totally by the young smart woman (bah re mon!)…so he asked his friend to make up a story of his death so that the aged lady does not bother him anymore! Had the lesbian not come in his life…he could have lived happily ever after with the aged lady his age…..but the MON was the culprit here …the mon wanted a much younger and fresher female to live-in with! So PAhari lost the chance of living with someone happily ever after…his duty remained to serve his mother till she was alive…..and later live with the fond memories of the lesbian.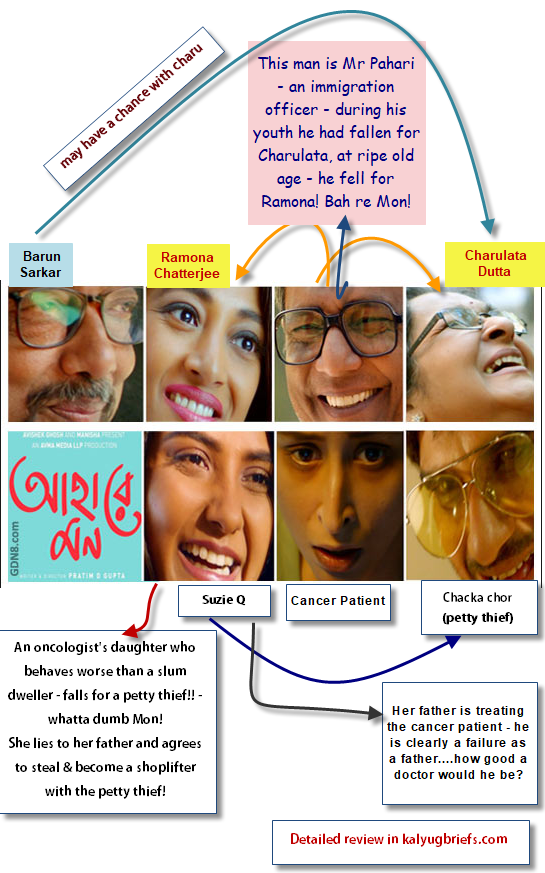 End of Story.